TRANSFORMING THE PARKING EXPERIENCE FOR PASSENGERS AND COMMUTERS EVERYWHERE
Parking Systems are a vital feature of all cities that silently contribute to traffic, pollution, time and even citizens stress level. Due to the growing population and the increasing number of commuters every day, it has become more difficult to uphold an efficient and sustainable parking system and in essence a stress-free facility for citizens.
Challenges facing cities everywhere with growing population:
The rising population and increase in number of vehicles and transportation services in the streets cause cities today to suffer from the lack of sufficient parking spaces. When commuters unknowingly roam the streets in search for vacant parking spaces, they silently contribute to growing traffic congestion and in the process drivers lose precious time. Due to the fact that drivers lack information related to nearby parking areas and vacant parking spaces, they become oblivious of where to park their vehicles, the best route decisions or even the best course of action, which can be recommend the utilization of public transportation services instead of own vehicle. With drivers' growing frustration, some drivers tend to park their vehicles on No-Parking areas. In other situations, parking violation might be kept unidentified and unattended, the rate of street violation and congestion increases.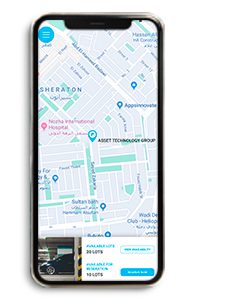 Parkiva smart parking solution is an innovative, fully integrated solution that utilizes the competence of IOT technologies to deliver a smooth, convenient and smart parking management experience. Parkiva is crafted as a set of interchangeable components that are integrated together according to your business and community needs to smarten the parking experience for your customers and acquire value from your parking spaces. Not only that, but also one of the main values of the solution technology structure is the ability to expand and grow its capabilities for the future, making it a scalable solution that meets emergent needs of our customers.
A SMART SOLUTION THAT WORKS FOR EVERYONE

Public Parking Areas

Airports

Shopping Malls and Retail Centres

Residential Communities

Offices and Business Parks

University Campuses

Hospitals

Stadiums and Sports Clubs
PARKIVA KEY SOLUTION FEATURES
PARKING AVAILABILITY AND GUIDANCE
Parkiva allows vehicle drivers to view detailed information about parking availability details and fees through the app. This feature allows app users to identify available parking lots in their destination, fees associated and if parking congestion occurs.
The app provides guidance for the user towards using other transportation options or visiting this destination in other non-peak hours. Users can choose to view more detailed information related to parking availability details and fees can be made available to users through the app.
STRESS-FREE PARKING RESERVATION
App users can pre-book a specific parking lot before reaching their parking destination and upon arrival they open the lot barrier or a parking area with their individual ticket. The ability to define VIP reservation or standard reservation via the app can have different configurable fees. Also, reservations are time-controlled, after a certain time period the reservation is cancelled if parking reservation hasn't been used on time.
PAY ONLINE
Convenience is always key when targeting customers and online payment and handling of services has become a growing need by customers everywhere. That is why Parkiva simplifies your passenger experience to easily reserve their parking space and pay for this service through the app.
REALTIME REPORTING AND ANALYTICS
Information is a business essential today. Parkiva allows you to have real-time data on the efficiency, occupancy and utilization of your parking spaces. The ability to manage and generate business opportunities of your visitors' parking experiences can be tremendous. Use Parkiva's reporting and analytics dashboard to generate real-time reports and as per need analysis across your organization's parking operations
DETECT AND MANAGE PARKING VIOLATIONS
Parking violation can be one of the major causes to creating congestion in your business localities. The ability to detect where a violation exists and applying your business regulations penalties help in a maintaining a more stress-free and convenient parking experience for your visitors.
LIVE FEEDBACK, NOTIFICATIONS AND ALERTS
App users can rate their overall experience through Parkiva, providing proper assessment to the parking experience and for parking operators the information to improve. The app supports SMS, Email and Push Notifications, where a user receives a notification to alert him/her that his reservation will expire soon or a push notification that he will be receiving an offer on his next visit with Parkiva.
IS PARKIVA THE RIGHT SOLUTION FOR YOU?
Your Visitor's Parking Experience - TRANSFORMED
Reserve, Park and Pay through a seamless, online parking experience
Get recommendations on parking availability in destination
Get notified with favorite parking spots availability
Monitor parking charges and receive notifications with each additional paying hour
Recommend parking experience to friends and family and invite them to use the app and visit more often
No more lost parking tickets
Find my car easily and share my parking location with friends and family
Real-time notifications for users before parking reservation expiration
Receive live notifications and alerts about offers, discounts and loyalty points when using the app
Create an account once and sign in easily every time through Parkiva Single Sign-On (SSO) platform
YOU CAN OFFER YOUR CUSTOMERS MORE WITH PARKIVA
Event Parking
Valet Parking
Car Pooling
Ticketless Solution